Hey there Lovely Lady.

Are you ready to nail that passive income stream you've been daydreaming of?
You just want to create the course you've been toying with for what feels like a lifetime now.
Somehow, though, you're too busy doing actual work with clients to hit pause on business as usual and make time for it. Why does it have to be so hard?
✔️You've got the audience  
✔️You've got the expertise  
You've watched all the free stuff on course creation, but now you want to make it your own. You want your course to feel as authentic as your private coaching.
You know an online course is the way to scale and grow your income, but you don't know where to start. It's like you're teetering on the edge of finally having the dream outcome for your business and lifestyle, but you just can't quite get there. Why does this feel so overwhelming?
An online course is your ticket to a predictable source of income that gives you your time back.
Skills don't pay the Bills. Strategy does. 
You see, running a profitable online course isn't simply a matter of getting a bunch of people to sign up, then downloading all of your expertise into their brains.
To ensure your digital course lands repeat sales, round after round (aka that golden passive income stream), you need to translate your expertise into content that's well-structured, insightful and more importantly, actionable. 
As a university-qualified teacher and learning engagement specialist with over a decade's experience, I'm here to show you a tried-and-tested, step-by-step guide to navigating – and nailing – the online learning industry.
Which is why I've created...
Courses that Connect
A 12-week incubator to transform your expertise into a digital product that sells (again, and again).
You'll emerge with…
A fully developed online course ready to go (we'll break down the process into easy-peasy, Tim Tam-sized steps)
Confidence, skills and strategies for a lean launch (aka how to launch within 12 weeks without spending hundreds of dollars)
Copywriting skills to market and sell your course to your dream students (yep, copywriting is included in this course, because without it, your course is invisible!)
Sales page copy ready to plug-in and play (you'll learn my easy chunking method for sales pages and get feedback on your copy)
Audience building and launch strategy (while you are building your course, let's grow that audience ready for launch)
You're never just a number inside Courses that Connect
"Working with Lisa is pure pleasure!

If you enjoy focusing on actionable steps, strategic and structured guidance with heaps of understanding and empathy.
I knew I needed a step by step guide and accountability. I struggled with choosing a topic for my course for ages.
With Lisa it became crystal clear and made so much sense I wondered how I didn't see it before."
Petra Palfyova creator of
Love Your Demons
"I had tried to create an online course for about two years, then I found Lisa...

I realised what I needed most was accountability and the exchange with like-minded people (as well as some guidance).

My gut was telling me this was my moment, and I took the leap. I haven't regretted this step one moment. Not only do I find Lisa's teaching and copywriting expertise very helpful (especially as the non-native speaker that I am ), we've also got an amazing, supportive group."
Sabine Besse creator of
Totally Lovable
"I discovered Lisa through her free four day Bootcamp and was so impressed that I signed up to her Courses that Connect program.

I'd been talking about creating an online course for at least the past two years but never knew where to start. It all seemed so complicated.

The content that Lisa has shared on Courses That Connect has been way, way beyond my expectations. And Lisa's generosity with her time and knowledge has been so motivating and inspiring.

I am now so close to being ready to launch. Can't wait!!"
Kate Bird creator of
One Sassy Bird
Hi, I'm Lisa
As the Launch Success Coach, I help business women translate their one-to-one work into online courses. I also have a university degree in teaching and 10 years' experience in delivering learning programs both for adults and children.
Welcome! I'm so glad you're here. I created Courses that Connect to help you make connections between ideas and income, mapping out the pathways that will take your course from a confused mess to clear success.
As an engagement specialist, I'll show you how to build a community where you can show up as your authentic self (there are no sleazy snake-oil salesmen here, thanks) and sell soulfully.
Together, we'll make your online course a repeatable success.
Come, let's join forces…
Imagine…
>>> You're the proud owner of a high quality, profitable digital course
>>> You love the tech platform you've chosen and have mastered it confidently 
>>> You're helping many more people than you could one-to-one
>>> You're living the lifestyle of your daydreams by unlocking your passive income potential
Courses that Connect has helped over 300 incredible coaches, healers and entrepreneurs turn their expertise into a valuable digital product. I feel so honoured to have been a part of their journey, and I would truly love to be a part of yours.
Scroll this way to see what you'll learn…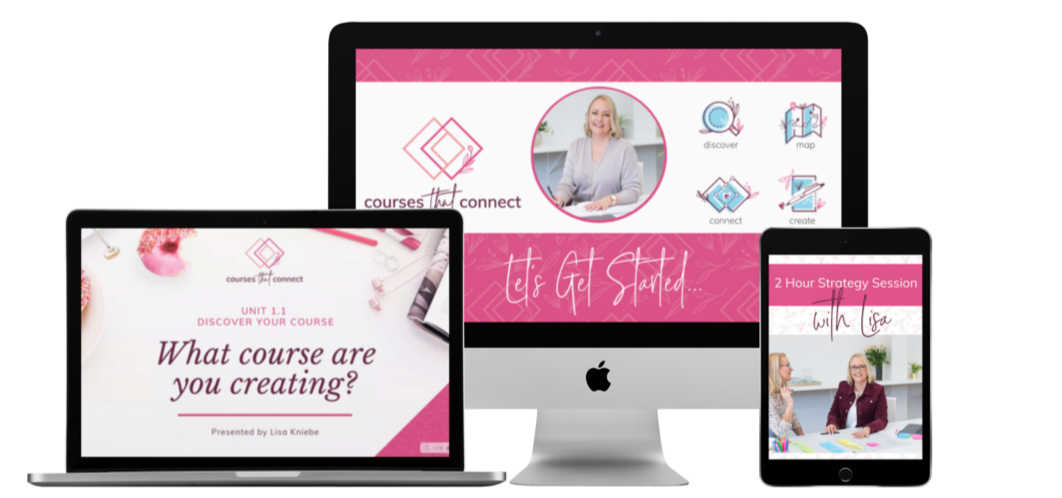 PILLAR 1: Online Course Strategy
When you get the foundations right you have a solid base to build your online course from and that's why we focus on the nuts and bolts to get started. You can access the learning at your own pace, but I recommend tackling one module per week. 
The Online Course  Strategy Pillar will give you clarity and direction, setting the stage for everything to come. Here's what you'll explore:
Profitable topics, pricing, niching & naming.

Positioning and targeting your online course to attract your audience.
Creating an irresistible course promise & designing your curriculum. 
Nail Your Course Design
Course topic, type and positioning.
Discover Your Ideal Student
Deep dive into your student avatar
Discover Easy Curriculum Design
Map the content you'll teach
Learn How to Validate Your Course Idea
Test and validate your ideas
PILLAR 2: Marketing & Messaging
The best courses have student outcomes and sales strategy at their core. You'll bring your knowledge from Pillar One into the next stage ready to focus on marketing and sales.
It's here I'll be teaching your the copywriting skills you need to master  writing your course sales page, building your audience with a lead magnet and preparing to sell your course with consistent content creation.
This is a chunky Pillar, but one which moves the needle towards your course launch!
Sales page copywriting that converts
Strategic pre-launch audience building
How to build desire for your course before you create it
Breakthrough Your Sales Page Blocks
Stand out sales pages
Master Your Course Messaging
How to write your sales copy
Design Your Pre-Launch Plan
Strategic pre-launch content.
Get Started with Audience Building
Grow an engaged audience
PILLAR 3: Tech & Recording
Tech and course recording can feel daunting, which is why there are 3 modules dedicated to this topic. In this Pillar you'll be introduced to the world on online course platforms.
I'll teach you how to sell your course without having to invest in expensive platforms so you can achieve more ROI on your first launch.
You'll explore the tools you need to record and edit video content. After this module you'll be confident to start recording your course, editing videos and setting up your tech.
How to choose an online learning platform
Blueprint for creating lesson content
Branding and design to  make your course look pretty
Confidently Choose Your Course Platform
Explore the right tech for you
Learn How to Record Video Lessons
Recording and editing your videos
Create Your Workbooks and Activities
From slide decks to works books.
Make Your Course Beautiful
Learn how to create professional looking resources
PILLAR 4: Launching & Selling
It's here that the rubber hits the road, and all those moving parts come together ready for your launch.
I'll show you how to launch with a lean strategy that won't leave you a strung out mess. I'll share my soulful approach to selling that comes from a place of service and help you hone your confidence to press GO on your course.
Nailing your first launch
The stress less soft launch strategy
Soulful selling without the sleaze  
Plan Your Launch Strategy
Using webinars and bootcamps
Build Your Sales Funnels
Sales funnel strategy for course sales
Discover My Swipe Files for Your Launch Copy
What you need for a soft launch
Ready, Set, Launch!
Let's launch your course to a warm audience.
Before You Go...
Creating an online course shouldn't be hard. Or dramatic. Or leave you a strung-out mess. It shouldn't be something you dread. It should be a predictable source of income that gives you your time back. And that's exactly what Courses that Connect is here to do. 
If you're ready to add an online course to your business model, scale back your one-to-one hours, and get your time back, then this course is for you.
Courses that Connect opens the doors in 2023 
"I recently completed Lisa Kniebe's Courses That Connect Course and absolutely loved it.

I have been meaning to convert my physical Money Smart Woman workshop into an online course, but I did not know where to start. So I didn't.

Lisa's course allowed me to methodically work through the areas that I needed to consider and I now have a blueprint from where I can create a course.

Thank you Lisa for your valuable guidance, I felt well guided and cared for throughout the course."
Christina Cabrera creator of
Money Smart Woman
"For 2-years I've been trying to get an online course up and running and Lisa got it happening in 8-weeks!

I wish I'd worked with her earlier to save a whole heap of time, frustration and money!

Lisa's structure and teaching skills bring professionalism, structure and warmth. She makes you think in a new way and takes you on a gentle journey where you create your course without pain. "
Elaine Davies creator of
Buy Property Like A Pro
"I have been sitting with my dream course spinning around in my head for so long, but I always thought that I would have to be more tech savvy or have more time to be able to apply myself. I also had no idea where to start.

The moment I stepped into Lisa's course I knew it was the right choice for me.

I really like the simple step by step approach. I never felt like the task was overwhelming. Week by week I completed the tasks and before I knew it I had my course ready to go.

This course is not just about building the content of a course - this is about getting to know your ideal customer, getting down to the real pain points of your customers so you can produce something that is needed, sellable and aligns with your brand."
Susie Prout creator of
Susies Breast Feeding success School
FAQs
How long do I have access to the course?
How does lifetime access sound? After enrolling, you have unlimited access to this course for as long as the original course is in existence.
How is the course delivered?
The course is delivered online and you'll have access to pre-recorded video lessons, workbooks and weekly checklists. For daily support, there is a private Facebook group. For more in-depth support, you'll be invited to attend 12 weekly group coaching calls held via Zoom. These calls are recorded so you can watch the replay if your can't attend live.
How many students will be on the course?
Courses that Connect is a boutique learning environment with a unique and highly structured group coaching system. As a trained facilitator I use a model of co-operative coaching, which means sessions will be productive and filled with a-ha moments for every student. Interactions will be multi-layered, with reflective prompts, peer support and hot-seats.
That means you'll never feel like 'just another number', but always have my full attention and conscious engagement. If you like a high-touch container for learning, then this  program is for you.
What are the pop-up mastermind pods? 
Pop-up mastermind pods are a personalised and highly effective way for you to be part of a small team of course creators who work together to support one another's success.  They are optional, but highly recommended. Once you've been allocated a pod you'll be able to decide with your fellow masterminders how you want to interact, whether you'll set-up a WhatsApp chat thread, a weekly call or just email when you need to.
You'll receive guidelines and suggestions for how to use these highly effective pods, but to give you an idea, my recent students have been supporting each other on socials with comments and shares, sharing one another's lead magnets and becoming each others biggest cheer squad!
What about co-working sessions?
Co-working sessions will be held weekly on Zoom for 2-hours. The time and day will be agreed on a week-by-week basis to suit the time zones and group requirements. They will be a time for you to turn up and take action.
I'll be facilitating using a system of 2 x 45min working sprints with a short break of 15 minutes between each. In those breaks you'll be welcome to pick my brains and ask questions, however, these questions are focused on moving you forward during the session, rather than broader coaching or strategy. 
How much time per week do I need to dedicate to Courses that Connect?
Set aside approx. 5 hours per week to get the most out of this program. There are some aspects of the course that are more demanding than others, for example developing your sales page copy, mapping your curriculum and so on. On average the lesson viewing time is between 90 minutes and 3 hours.  
What if I don't know the topic of my course yet?
That is completely A-OK. In fact, you probably won't be the only student who hasn't settled on their course topic yet. As long as you have a somewhat-established business and are working with 1:1 clients, we can nut out the rest together as you progress through the first few lessons.
What if life happens and I can't complete the course right away?
I totally get it! Life can get crazy and suddenly the time you thought you had has gone. Don't worry, you have lifetime access to the course materials and the private Facebook group. You'll also have an option to continue group coaching for a further 6 -12 weeks for a small fee.
What if I am unhappy with the course?
I think you'll love the course, and out of the 300 participants that Courses that Connect has served, no-one has ever let me know they are unhappy. But it is my top priority to support you, and if the course does not achieve that, then I want to remedy that issue.
If you are unsatisfied with your purchase and have made a genuine attempt to complete the modules, attend the group coaching and complete the action steps and ask for feedback, then contact me in the first 14 days and I will give you a full refund.
How are you qualified to teach this course?
I spent 4 years at university to become a qualified teacher, plus I have 10 years' experience in delivering learning programs. I'm a Learning Engagement specialist, which means I've completed extra training to understand student engagement and how this impacts outcomes. Add to this, five years in online sales as a conversion copywriter and three years in launch coaching, and you have a solid foundation of experience and education.
"I'd been tinkering with creating an online course for quite some time but was feeling overwhelmed and directionless in how to put it all together in a cohesive format.

Courses That Connect was just what I needed to get out of my own head and learn how to structure the lessons in an easy to digest way."
Gaye Nilson
"I just want to say that I thoroughly enjoyed your course.

Courses that Connect helped me get clear on how I wanted to share the information, what my core message was and how to share that in small bite sized bits."
Amanda Hobley
"I've had so much content in my head and no clear overview of how to stitch it all together in a course format.

Having your knowledge and experience guide me through setting up the framework for such a full personal and professional development course, has been really invaluable"
Kerry Paul